Welcome to the Vera Lim Blog Blitz!!! I have never done anything like this...very excited!...soo if I miss something I apologize! Though..I should not because I have read and re-read my post about a million times..lol! Soo..enough of my mindless chatter and on to the goods....
Wild & Beautiful is a digital scrapbooking kit by Vera Lim. We were given this kit to "play with" for the blog blitz. Just looking at the preview I fell in love with it....the soft colors to those perfectly ruffled flowers... I did not know where I start first. She even includes some lovely shadowed versions of the elements (such as the ribbons and flowers). I did not use them on my page...only because I am an extreme "want-to-do-it-myself" kind of person..lol!..yeah! a little OCD...but if I had to do a page in under an hour's time I would definitely have used the elements that are already shadowed.

I could see myself playing with the papers in this kit with some of my other scrap supplies (still using some of the kit's elements) just to mix it up a bit. The papers themselves are a work of art. So let me shush now...you can have a look for yourself and a peek at my page that I made....
___________________________________________________________________________
**Note: I was provided a copy of this kit by Vera Lim, a guest designer at Oscraps.com.
This review was not influenced by a free kit - just in case you (or the FTC) were worried about this detail.
___________________________________________________________________________
Wild & Beautiful is a "gorgeous and stunning pastel colored kit!" It includes 10 papers and 34 elements (available as colored and shadowed versions – 63 total elements).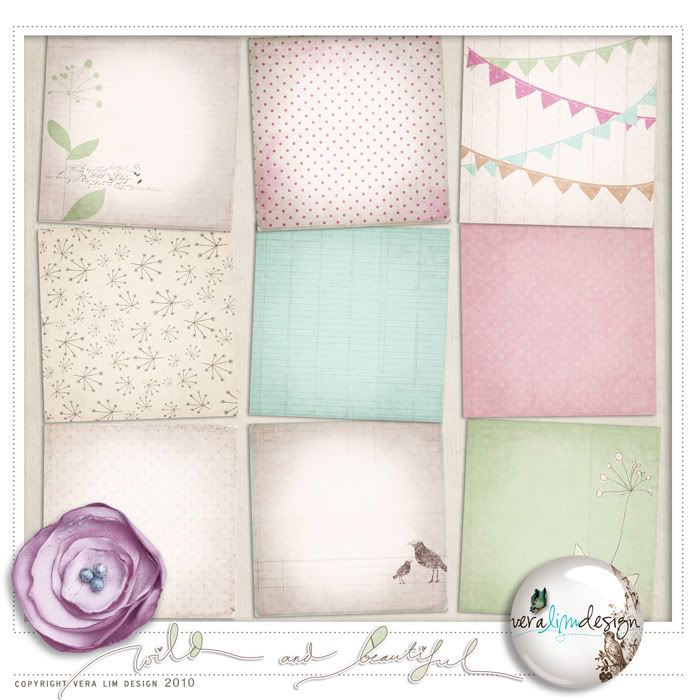 For those of you have not yet discovered Vera or are just itching to know just a little more info....
Vera Lim lives in beautiful New Zealand with her dear hubby and two georgious kids. She decided to guest this month at Oscraps because, well, she heard some good things about the O's and thought why not try it for herself!
More ways to be

"in the know"

about Vera Lim:
Are you still there?!?! Here is the fun part!!
Vera has a contest for you to enter into during this blog tour:
1)
Follow the Blog Tour:
Visit each blog and gather the words for a Christmas quote. When you have compiled the quote, e-mail it to bloghop @
oscraps.com
(remove the spaces). All e-mails must be received by midnight CST, Wednesday, Dec. 22.
One winner, from those who submit the correct quote, will be picked randomly – using Random.org - to win a kit of his/her choice from Vera Lim.
My part of the quote:
that something so intangible that it is like a fragrance.
Don't forget to keep up with the blog tour: http://bit.ly/VeraLim_blogblitz
Have fun and thanks for looking!!